RENTALS
We are happy to support other like minded theatre companies who need a space to rehearse or perform in with the option to rent the Fonseca Theatre or the Basile Collaboration Center. Our standard rates for the theatre are $500/week plus and additional $750 for tech week (the week that includes the first public performance). We include access to a color changing lighting system, sound system and professional projector within a repertory plot.
Rental days and times are afternoon and evenings, Tuesday through Sunday for a full week.  We do not rent space for less than a full week and we do not grant twenty-four hour a day access during rentals. The buildings are closed on Mondays with no rehearsals, rentals or performances allowed. 
The theatre seats 75 people, with four removable wheelchair accessible seats. The stage 22 feet wide by 22 feet deep. The fixed height grid is at 13 feet with and unchanging repertory light, sound and projector plot. Lights can be refocused, but cannot be moved. 
If you choose to rehearse and perform within our spaces, we include access to our scene shop, stock flats and platforms as well. For those who might be looking for just a rehearsal space with no access to the theatre, the Basile Collaboration Center is available on a full week rental basis, afternoons and evenings, Tuesday through Sunday subject to availability. The Collaboration Center is also closed on Mondays. 
We have specifically built into our seasonal schedules space availability for renters. We have availability in May, August and November of 2023.  If you would like to know more about these time slots and their availability please reach out to us.
For more information, contact our Production Manager. We are happy to give tours and discuss opportunities.
The C. H. Douglas and Gray Wealth Management Stage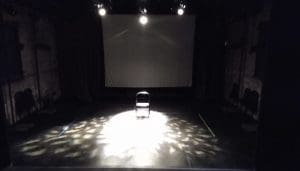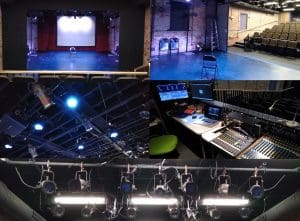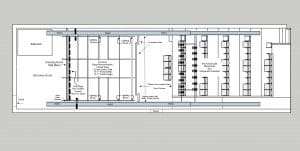 TECH INFORMATION
FTC is a store front theatre with a fixed grid at 13 feet and a fixed repertory lighting, sound, and projection plot. Units cannot be moved but can be refocused. There are no AutoCAD or Vector Works drawings available currently. Multiple layer PDN drawings with measurements and a lighting instrument schedule are available upon request.
The stage is 22 feet by 22 feet, the proscenium portal is 10′ 9″ high and 15′ 7″ wide.
Lighting units are a mixture of Altman ellipsoidal 6×12/6x9s, S4 Color Lime and Rush Par Color Zooms.
The sound system is an analog sound board with five speakers. One speaker is over house, and four are on stage (DSL, DSR, USL, USR). We have a Shure body-mic system with eight body-mics using Countrymen style mic elements, though we don't tend to use body-mics with our indoor stage.
The Projector System is a Panasonic PT-DZ6700U with either a standard or wide angle (short throw) lens. A projection screen can be hung in front of the back wall of the theatre (red curtain) to use as a projection surface or as a lighting cyclorama.
Control systems are ETC ION lighting system and Q-Lab for sound and video.  Both systems are networked together allowing for single button push "go" via Q-Lab once the performance operator takes over.
FTC does not provide technical personnel, designers (sets, props, light, sound, costumes or video), construction crews, load-in/out crew or backstage crews for renters.  Renters are responsible for providing their own skilled personnel.